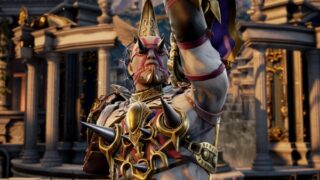 Voldo, who first appeared in Soul Blade, will be playable in Soulcalibur VI.
Here is an overview of the character, via Bandai Namco:
Bandai Namco Entertainment America

Fan-favorite Voldo returns to the stage of history in Soulcalibur VI with his signature style and maniacal moves. Voldo is a long-time character in the Soulcalibur franchise, being one of only five characters to show up in every main installment of the Soulcalibur series. Voldo was the right-hand man to Vercci, an arms dealer with the nickname "Merchant of Death", and was tasked to protect the Money Pit, where all of Vercci's treasures were kept after his death. After spending years in the dark depths of the Money Pit, Voldo lost his eyesight but gained a heightened sense of hearing and awareness, making him extremely deadly to those who dared to enter the Money Pit in search of riches. Voldo's fighting style is unmatched, as he contorts his body in unnatural ways and can even attack backwards, making him unpredictable and deadly in battle. Both longtime fans and new players will enjoy the exotic gameplay that accompanies this distinctive character in Soulcalibur VI.

Bandai Namco Entertainment Europe

Born in Palermo, Italy, Voldo was the vicious right-hand man of Vercci, an Italian weapons dealer and head of the Burg family, using his dual Jamadhar weapons, Manas & Ayus, to send deadly messages.

Vercci amassed a huge fortune of weapons and treasures over his life, which he stored on an island in the middle of the Mediterranean, in a deep underground cavern known as the Money Pit. It was here where Voldo was stationed for much of his master's life and where he remained for many years after his master death, guarding the treasures within.

His years spent in the dark depths of the Money Pit caused Voldo to lose his eyesight, but gained tremendous hearing and heightened senses. It was also where he developed his own self-taught, but bizarre and unpredictable fighting style.

Voldo remains within The Money Pit, awaiting those foolish enough to try and steal its treasures, only to find themselves ensnared by the terrifying guardian lurking in the shadows.
Soulcalibur VI is due out for PlayStation 4, Xbox One, and PC on October 19.
Watch a trailer below. View a set of screenshots and artwork at the gallery.