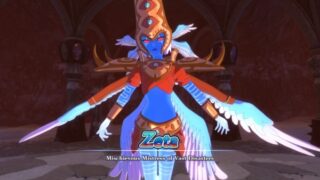 A free "Adventuer Pack" add-on for Ni no Kuni II: Revenant Kingdom will launch on August 9, followed by the two larger add-ons that are part of the Season Pass later this winter and in early 2019, publisher Bandai Namco and developer Level-5 announced.
Here is an overview of each add-on, via Bandai Namco:
Adventure Pack (free) – The Adventure Pack provides new challenges for experienced players. It adds additional floors to the Faraway Forest cave, upon clearing, players will be rewarded with new costumes for Evan and other characters. Players will have the opportunity to challenge themselves with even stronger new bosses: Blackhart and Zeta. Additional quests will be unlocked after completing the story and unique rewards can be acquired.
Season Pass DLC #1 – Available this winter, this DLC will feature a brand new enigmatic dungeon for players to explore. Evan and friends will plumb the depths of this cryptic dungeon facing increasingly stronger enemies while trying to reach its deepest levels. The journey will be difficult, but the reward will surely be worth it!
Season Pass DLC #2 – Expected to release early 2019, an additional story expansion of Ni no Kuni II: Revenant Kingdom will be available full of exciting content. More details to be announced soon.
Ni no Kuni II: Revenant Kingdom is available now for PlayStation 4 and PC.
View a new set of screenshots showcasing the Adventure Pack at the gallery.