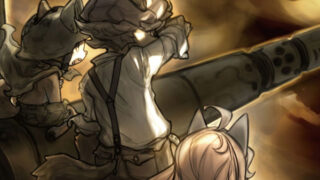 Fuga, the Little Tail Bronx 20th anniversary title first announced by CyberConnect2 in February, will launch in summer 2019, the latest issue of Weekly Famitsu reveals.
The following are tidbits from the magazine's interview with CyberConnect2 president and CEO Hiroshi Matsuyama:
We are dividing up the work between our studios, such as having the settings and image boards made in Japan, and the graphics animations made by our Montreal studio.
Three months after we release Fuga, we will release Tokyo Ogre Gate. And three months after that, we will release Cecile.
We're preparing physical versions. There will also be limited editions.
Since our self-published titles eliminate non-game elements as much as possible, you won't hear much details about the setting and worldview in the game. To make up for it, we're preparing a prequel manga for each game.
The Tokyo Ogre Gate manga is 51 pages long and drawn by Itsuki Hoshi.
We're also considering a plot that we can serialize and then collect in volumes. I'm hoping we can even make them into anime someday.
All of CyberConnect2's self-published games are planned for a worldwide release on PlayStation 4, Xbox One, Switch, and PC.
Thanks, Ryokutya2089.