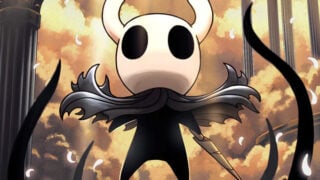 Team Cherry will release the final free content pack for Hollow Knight, titled "Gods & Glory," for boh the Switch and PC versions of the game on August 23, the company announced.
Described as the largest content pack yet, "Gods & Glory" offers new bosses, new non-player characters, new secrets, and a new gameplay mode. Here is the full outline, via Team Cherry:
New Character and Quest – The Godseeker arrives (and your romance options expand). Track down this disturbing yet alluring being, break her chains and aid her in an ancient duty.
New Boss Fights – Hallownest's greatest warriors raise their blades. Prepare yourself for giant new boss fights against the ultimate foes. Each new battle intertwines with the Godseeker's quest. No specifics on how that'll happen, but it may not be as you expect!
New Game Mode – Hollow Knight receives a third game mode. This ones been long requested and is a classic for the genre. Complete the Gods & Glory story to unlock the new mode.
New Music – Christopher Larkin is going all out for Hollow Knight's final free pack, with new soaring boss tracks and giant remixes of some beloved classics.
Glorify Charms – Prove yourself and uncover a whole new depth to your charm collection.
Watch the teaser trailer below.