God Wars 2 depicts the "end of the mythical world," first character artwork
Release date still to be announced.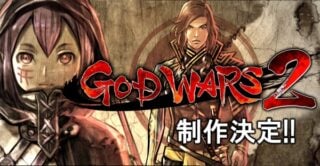 Following its initial announcement this past weekend, Kadokawa Games has officially announced God Wars 2 via press release. Platforms and release date have yet to be decided.
The story of God Wars 2 is based on the "national defense" of Japanese mythology, and depicts the "end of the mythical world" where the country moves from the world of Gods to the world of humans, and the founding of the Yamato nation.
According to director Yoshimi Yasuda, Kadokawa Games will further evolve the game's well-received tactical battles, as well as strengthen the graphics, including character designs.
Here are the first two characters to be revealed:
Nakata Takemi (voiced by Shou Karino)

The son of Okuninushi.

Orochi (voiced by Moa Tsukino)

A girl who inherited the leftover spirit of Yamata no Orochi.
View the first set of artworks at the gallery.