Earth Defense Force 5 coming west in 2018
Digital pre-orders now available.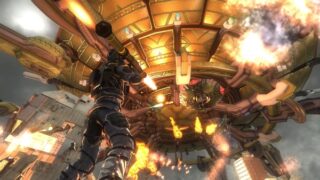 Earth Defense Force 5 is coming west in 2018, D3 Publisher announced.
It should be noted that unlike recent western Earth Defense Force localizations, Earth Defense Force 5 appears to be self-published by D3 Publisher and not localization house XSEED Games.
The announcement comes by way of an English trailer uploaded to the official PlayStation YouTube channel, which lists the game as "coming soon." The video description links to an official English website that is not yet live.
Pre-orders are currently available on the U.S. PlayStation Store for a $59.99 standard and $89.99 Deluxe editions with a release date of December 31, which is the standard tentative release date for "within 2018." It is unknown if there will be a physical release, given that it is being published by D3 Publisher themselves. The Deluxe Edition includes the following:
A copy of the game
Deluxe Edition Bonus Content 1: Earth Defense Force 5 PlayStation 4 theme
Deluxe Edition Bonus Content 2: Decoy Launcher [Pale Wing]
Deluxe Edition Bonus Content 3: Star Burst
12 variations of additional weapons and support arms that will boost the power of each of the ground troops
Two mission packs – Available post launch contains:
Additional Mission #1: Extra Challenge
Additional Mission #2: Super Challenge
All digital pre-orders will include an Earth Defense Force 5 PlayStation 4 theme rewarded immediately upon checkout, as well as the following bonus content at launch:
Pure Decoy Launcher 16 variations set – A special decoy which will dance and sing in the battlefield.
Volcanic Cracker – You can get the Wing Diver weapon and start using it from the beginning and you may only receive this weapon by pre-ordering the game.
Powered Exoskeleton Nix: Gold Coat – A commander machine shining with gold which boarding is admitted only by an early recruit.
Here is an overview of the game, via the PlayStation Store:
Become an Earth Defense Force Soldier and Save Earth

Become one of the soldiers of Earth Defense Force and exterminate the invading aliens. Protect peace on Earth.

Human-Looking Aliens Appear for the First Time in The Series

What are the unprecedented and intellectual alien beings from another planet called the 'Primer'? A series-first enemy alien finally appears. The battle with this intelligent enemy produces unprecedented deep despair, while leading the player to the most fun yet as EDF must confront them with courage and wisdom.

More Content than Ever, with Online Co-op Mode

Includes more than 100 missions in five difficulties and 1000-plus usable arms. The two-players co-op mode can also be played on a single screen, and all missions can be played in online co-op mode up to four players. Control four combatants, and join the battle with other Earth Defense Force members living in the real world.
Watch the trailer below.