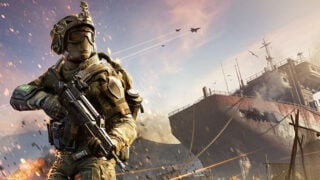 Free-to-play first-person shooter Warface is coming to PlayStation 4 and Xbox One in 2018, with early access beginning on PlayStation 4 in August and on Xbox One in September, publisher My.com announced.
Here is an overview of the game, via its Steam page:
Warface is a free-to-play first-person shooter from the creators of Far Cry and Crysis that offers:

Four classes leveled simultaneously: play as a Rifleman, Sniper, Engineer, and Medic.
Two powerful factions: Warface and Blackwood.
Endless possibilities in PVP: 9-plus modes on 50-plus maps.
Ranked matches, clan wars and more!
Story-driven PVE: 8-plus special operations with unique environment and enemies.
PVE missions with different difficulties for anyone from a new player to a veteran!
Co-op and Versus gameplay you can enjoy with your friends.
A wide range of primary, secondary and melee weapons with multiple attachments available. The lineup is regularly updated!
A variety of equipment, weapon and character skins that will help you to stand out!
Watch the console announcement trailer below. Visit the official website here.