Digimon ReArise now available in Japan
Download the free-to-play training RPG now.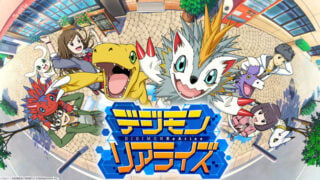 Free-to-play training RPG Digimon ReArise is now available for iOS via the App Store and Android via Google Play in Japan.
Here is an overview of the game, via its store pages:
A story that ties together Digimon and Tamers – An original story that depicts the growth of Tamers and their friendships with Digimon. Featuring character designs by Katsuyoshi Nakatsuru, who worked on previous Digimon anime series including Digimon Adventure.
Communication that strengthens the friendships of Digimon and Tamers – The Digimon will communicate on their own in the Digi-Town, where they will freely spend each day. Tamers will also communicate among each other.
Battles that put friendships to the test – Strategic real-time battles with up to five Digimon on each side, where your Digimons' individuality and the power of your friendships are on full display. Battle in both "Battle Park," where you can fight against other Digimon, and "Clash Battle," where everyone takes on a powerful Digimon.
Training with Digimon – Helpful training meant for Digimon, including special training, Digivolution, and Digimon requests. Develop your friendships with your Digimon and aim for a Mega digivolution.