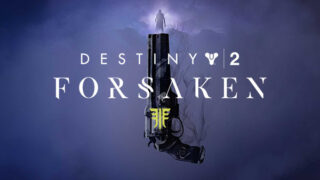 Activision and Bungie have officially announced Destiny 2: Forsaken, the year two expansion to the 2017-launched multiplayer first-person shooter. It will launch on September 4 for PlayStation 4, Xbox One, and PC.
Here is an overview of the expansion, via Activision:
About

Following years of strife, what remains of the Reef has fallen to lawlessness. You and Cayde-6 are sent to personally investigate the recent unrest. Upon arrival, you soon discover the most-wanted criminals in the Prison of Elders have organized an escape. Beyond the Vanguard's authority, you'll pursue these fugitives deep into the Reef. Explore new regions, awaken new powers, earn powerful weapons, and uncover long lost Awoken secrets. The hunt is on.

Key Features

Hunt down the eight Barons and their crew
Two new destinations: The Tangled Shore and The Dreaming City
A brand-new raid
Introducing Gambit, a four-versus-four competitive player-versus-enemy mode
Wield new powers with nine additional supers
Collect new exotic weapons, armor, and gear
All-new weapon archetype, Legendary Bow
New story missions, adventures, destination activities, and more
Destiny 2: Forsaken will be available as a standalone purchase (which requires Destiny 2 and Destiny 2 Expansions I and II) for $39.99, as well as in a Digital Deluxe Edition for $79.99 and Forsaken + Annual Pass Bundle for $69.99. The Digital Deluxe Edition includes "The Awoken Legend" downloadable content set and the Annual Pass, while the Forsaken + Annual Pass Bundle includes only the Annual Pass. Here are the details on each:
The Awoken Legend Set

Wrath Majestic Legendary Bow Ornament
Dirge Paladin Emblem
Vestian Ghost Shell
Fireteam Medallions

Destiny 2: Forsaken Annual Pass

Alongside seasonal updates and live events available to every Destiny 2 player, Forsaken Annual Pass provides bonus rewards and introduces three premium content releases (anticipated in Winter 2018, Spring 2019, and Summer 2019).
Destiny 2 is available now for PlayStation 4, Xbox One, and PC.
Watch the reveal video documentary below. View a set of screenshots at the gallery. Visit the official website here.