Capcom announces E3 2018 lineup
Mega Man, Monster Hunter, and Street Fighter.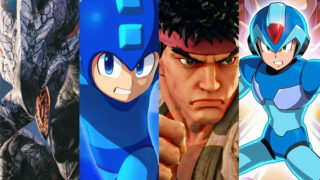 Capcom has announced the lineup of games it is bringing to E3 2018 in Los Angeles from June 12 to 14.
The following games will be playable:
Mega Man 11 (PS4, Xbox One, Switch, PC)

Get your gloves on classic gameplay combined with the brand-new Double Gear System in the Blue Bomber's new quest! Be one of the first to play through Block Man's colorful and challenging stage in this brand new adventure crafted by a veteran development team at Capcom. Mega Man 11 slides on to PlayStation 4, Xbox One, Nintendo Switch, and PC on October 2!

Mega Man X Legacy Collection 1 + 2 (PS4, Xbox One, Switch, PC)

The world of Mega Man X is at your fingertips with eight futuristic adventures featuring X, Zero, and Axl battling against Mavericks, high-tech robots gone bad. Check out all eight games ranging from 16-bit to 32-bit and beyond, and test your skills in the new X Challenge mode, pitting X against pairs of Mavericks! Mega Man X Legacy Collection 1 + 2 are coming to PlayStation 4, Xbox One, PC, and Nintendo Switch on July 24.

Monster Hunter Generations Ultimate (Switch)

Take the hunt on the go or cast it up to the big screen with Monster Hunter Generations Ultimate, known as Monster Hunter XX in Japan, coming exclusively to Nintendo Switch on August 28. Continuing the celebration started by Monster Hunter Generations on Nintendo 3DS, we're expanding the monster roster, the number of ways you can hunt, and cranking up the challenge with "G Rank" quests.

Street Fighter V: Arcade Edition (PS4, PC)

Cody, Metro City's New Mayor, has openings in his schedule all three days for anyone wanting an appointment with him. Cody will be playable at E3, including all four of his other costumes: Battle, Story, Nostalgia, and Final Fight. Experience what the new mayor will bring to the legendary fighting game series – knives, pipes, and all. Cody will be available on June 26 on PlayStation 4 and PC!
Capcom has also announced the following live streams:
June 12

12:00 p.m. to 12:45 p.m. – Mega Man 11 (Twitch) – Developer stream with producer Kazuhiro Tsuchiya and Koji Oda.
2:30 p.m. to 5:00 p.m. – Monster Hunter: World (Twitch) – Time Attack tournament. Details here.

June 13
For those attending, Street Fighter 30th Anniversary Collection challenge events are planned for June 12 and 13 from 6:00 p.m. to 7:00 p.m. each day. Various signings with the producers behind Street Fighter, Monster Hunter, and Mega Man 11 are also scheduled. See the full list here.