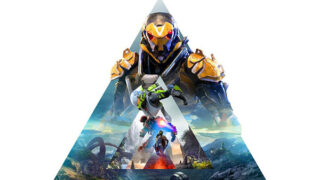 Anthem will launch for PlayStation 4, Xbox One, and PC on February 22, 2019, publisher Electronic Arts and developer BioWare announced during the EA Play 2018 press conference.
Origin Access Premier members can play the full game early with unlimited access on PC starting February 15, and EA Access and Origin Access Basic members can play up to 10 hours of the game as part of the Play First Trial on the same date.
Anthem will be available in standard and "Legion of Dawn" editions. Here are the details, via the game's official website:
Standard Edition with Pre-Order Bonus ($59.99)

Be among the first to venture beyond Fort Tarsis with VIP access to pre-launch demos when you pre-order the Standard Edition.

Pre-Order Bonus: Legion of Dawn Legendary Ranger Armor Pack and Weapon
Pre-Order Bonus: VIP Access to Pre-Launch Demos
Pre-Order Bonus: Founders Player Banner

Legion of Dawn Edition with Pre-Order Bonus ($79.99)

Pre-order the Legion of Dawn Edition to gain VIP access to pre-launch demos. Legion of Dawn Edition includes four Legendary Armor Packs, a Legendary weapon, and more.

Legendary Ranger Armor Pack
Legendary Colossus Armor Pack
Legendary Storm Armor Pack
Legendary Interceptor Armor Pack
Ranger Javelin Gear Attachment
Anthem Digital Soundtrack
Pre-Order Bonus: VIP Access to Pre-Launch Demos
Pre-Order Bonus: Founders Player Banner
Anthem was also revealed to be the cover story for the July 2018 issue of Game Informer. The full cover story is accessible now, completely free. Other coverage is also available via Game Informer's Anthem hub.
Here is an overview of the game, via EA:
Anthem is a social, connected Action–RPG with cooperative multiplayer at its heart. Players customize an array of powered Javelin exosuits and team up to face a dangerous and ever-changing world through exploration and combat.

In Anthem, up to four players explore and battle in a dangerous, mysterious place populated by great characters and a unique BioWare story. Players will also create stories of their own while they play, so no two journeys are the same. Javelin exosuits make their pilots powerful heroes in the world, with awesome weapons and incredible special abilities that allow for combat and exploration in a hostile environment. Players will be able to customize and personalize their suits with unique paint jobs and gear so they'll have the right tools to confront almost any situation, and look good doing it.
(Update 6:00 p.m.: BioWare has also confirmed an Internet connection is required to play Anthem.)
Watch a cinematic trailer and new gameplay footage below. View a new set of screenshots at the gallery. Visit the official website here.
Trailer
Gameplay
Gameplay presentation starts at 13:15.
Update 7:00 p.m.: Here is another gameplay video, via IGN's E3 2018 live stream: