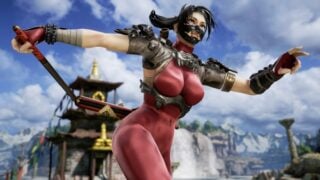 Taki, who first appeared in Soul Edge, will be playable in Soulcalibur VI, Bandai Namco announced.
Here is an overview of the character, via Bandai Namco:
Bandai Namco Entertainment America

Armed with dual blades, Taki is a true dealer of pain and destruction, able to take on all challengers in any arena of battle. Taki can be cold, emotionless, and serious – all attributes that make her a better ninja. She also has a deep sense of duty to complete an assigned mission, this makes her an even more focused weapon.

Bandai Namco Entertainment Europe

Taki is a famous ninja also known as the Fu-Ma's Shadow, so there's no doubting her fighting skills! She is also an expert in blacksmithing having crafted her own two swords Rekki-Maru & Mekki-Maru. Her last master piece Mekki-Maru is fused with a fragment of the Cursed Sword. Even if the whereabouts of the Soul Edge are unknown, Taki's weapon still glows with a mysterious power…
Soulcalibur VI is due out for PlayStation 4, Xbox One, and PC in 2018.
Watch a trailer below. View a set of screenshots at the gallery.