GungHo Online Entertainment teases "major game reveal" for Switch at E3 2018
Preliminary E3 2018 lineup announced.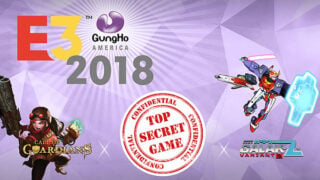 GungHo Online Entertainment America will have a "major game reveal" for Switch at E3 2018, the company teased.
The publisher launched its official E3 2018 website today confirming the first two playable titles at the event:
Call of Guardians (iOS, Android) – Official Website

A one-of-a-kind MOBA available on iOS and Android developed by Signal Studios. With a diverse roster of Guardians, there's a robust selection of heroes, including the intelligent and nimble Helvia, a tactical robot Ladon, or the rageful summoner Damien. Using each Guardian's arsenal of minions, spells, spawners, and special hero-based abilities, players can subdue their opponents in fast-paced, head-to-head action. Each battle engaged will strengthen the player's Guardian, their stockpile of weapons and support units, and will create opportunities to expand the player's armory.

"We've been eagerly waiting to debut Call of Guardians and bring an intense multiplayer MOBA, with unique hero card collections, custom-built decks and riveting quests to iOS and Android," said D.R. Albright III, President and Creative Director at Signal Studios. "Our partnership with GungHo truly delivers a AAA gaming experience and will help expand the game's reach worldwide."

Galak-Z: Variant S (Switch) – Official Website

s a follow-up to the original, Galak-Z: Variant S delivers a premier galaxy-surfing, space-blasting experience on the Nintendo Switch with intuitive controls, a story-driven campaign, and intense combat for players to voyage through the universe at hyperspeed. In this spaced-out game developed by 17-BIT, players can collect upgrades, salvage, relics, and Bots to max out their spaceship's potential and boost their Mech's combat effectiveness to become the highest ranked pilot in the galaxy.

"With Galak-Z: Variant S, we're capitalizing on the Nintendo Switch's maximum potential with handheld and tabletop mode, and implementing new changes in the game," said Jake Kazdal, CEO and founder of 17-BIT. "By bringing this title to the Nintendo Switch, we are delivering an incredible space exploration experience to a wide and eager player base."
Other than the new title for Switch, GungHo Online Entertainment America will also announce additional news through upcoming announcements leading into E3 2018.