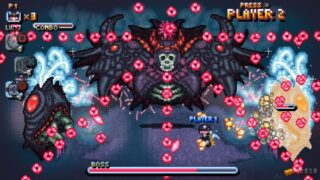 Developer and publisher Cowcat has announced Riddled Corpses EX, an upgraded remaster of developer Diabolical Mind's June 2015-released PC twin-stick shooter, for PlayStation 4, Xbox One, and PS Vita. It will launch in Q2 2018.
Here is an overview of the game, via Cowcat:
About

A frenetic arcade style twin-stick shooter.

Riddled Corpses EX is a twin-stick shooter made in the style of 8/16 bit arcade games. Alone or with a friend, travel through diverse locations packed with danger and huge bosses. Choose your character wisely and make good use of their abilities and the special items to progress and destroy the root of evil!

Key Features

60 frames per second fast-paced action
Two-player local co-op (on PlayStation 4 and Xbox One)
Six characters with varying stats and abilities
Combo system
Quality chiptune music
Register your best scores on the online leaderboard
Trophies (Platinum) and Achievements
PS Vita version is cross-buy with PlayStation 4 version

Full List of Changes

60 frames per second for all consoles (the game was 30 frames per second on PC)
Clearer HUD with transparency
Characters now have different stats
New "Story mode" with cutscenes
New soundtrack (switch between classic and new)
"Grinding" significantly reduced and more progressive
Enemies have more diverse AI and stats
New collision detection
New combo system
Co-op mode now works as expected and in all modes (local co-op only on PlayStation 4 and Xbox One)
Arcade mode revamped to be a "true" arcade experience – start with nothing but a few lives and need to complete the game in one sitting
Compare your scores in each mode on the online leaderboard
Added bonus stages in Arcade mode
Added explanations for each mode
Added hazards in levels (exploding barrels, fire floor, etc.) and extras (crates, etc.)
Destructible objects now have a health bar
Clock power-up now blocks or slows down enemies and shots + graphical effect
Dynamic now works on all enemies
New menu artwork
New lighting system
Stereo music and sounds (PC version was mono)
Palette swap for characters in co-op
Optional transparency effects
Added controller vibration
Added stage progress indicator
And more…
View the first set of screenshots at the gallery.