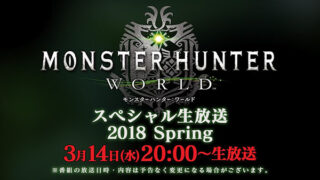 Capcom will host a Monster Hunter: World Spring 2018 Special Broadcast on March 14 at 20:00 JST, the company announced. A link to the broadcast will be posted on March 8. (Update 03/08/18: The YouTube link is live.)
The broadcast will feature the latest information on Monster Hunter: World, which will likely include details about the previously announced spring update that adds new monster Deviljho.
Monster Hunter: World is available now worldwide for PlayStation 4 and Xbox One (the Xbox One version is only available in North America and Europe). A PC version is due out this fall.