GameFly lists Soldam: Drop, Connect, Erase for PS4
City Connection puzzle game coming to PlayStation 4.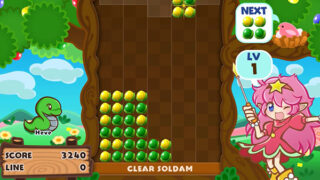 GameFly has posted a product page for a PlayStation 4 version of Soldam: Drop, Connect, Erase, which first launched for Switch in October 2017. The PlayStation 4 version is listed for a June 30 release.
Publisher Dispatch Games has yet to announce a PlayStation 4 version of the puzzle game.
Here is an overview of the Switch version, via Amazon:
About

Revisit the classic 90's tile-matching arcade puzzle game with Soldam: Drop, Connect, Erase. Newly updated for Nintendo Switch with updated graphics, more game play modes, including two-person multiplayer. Soldam: Drop Connect, Erase is fun for the whole family; four entertaining modes challenge beginners to experienced players. The graphics that have been updated for modern systems while still retaining their classic arcade style charm. Whether you're looking for casual fun play or advanced strategy puzzle challenges, Soldam: Drop, Connect, Erase has something for everyone.

Key Features

Build Up Your Level: Conquer new challenges and earn rewards in this fast paced puzzle game.
Challenge Your Friends: Showdown mode pits you against a friend in an online show down to see who is the puzzle master.
Complete Your Plumidex: Master challenges in Soldam mode and earn Plumi's for your Plumidex. Pick which Plumi you want to take to your next challenge.
Soldam Mode: Experienced players master 200 levels of challenging levels of difficulty and collect Plumi's for your Plumidex
Challenge Mode: The Ultimate test of wits with 50 perplexing levels of increasing difficulty.
Easy Mode: Whether new to video games or a seasoned veteran, Easy Mode quickly gets you up to speed so you can join in the action in no time.