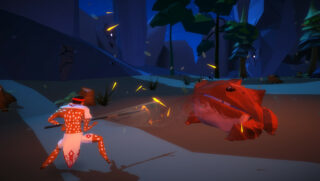 Mulaka will launch for PlayStation 4 and PC (Steam) on February 27, Switch on March 1, and Xbox One on March 2 for $19.99, developer Lienzo announced.
Pre-orders are available today across all platforms. A portion of the game's earnings, both through pre-orders and following launch, will be donated to non-government organizations that focus their support on the Sierra Tarahumara region of Mexico which inspired Mulaka and the people that live there.
Here is an overview of the game, via Lienzo:
About

Renowned for their impressive running abilities, embark on the journey of a Sukurúame – a Tarahumara shaman – as you fight back the foulness corrupting the land, while drawing upon the powers of demigods. From solving puzzles in environments inspired by real Sierra Tarahumara locations, to heated hand-to-hand combat with creatures pulled from the region's mythology, find out why the Tarahumara have earned a reputation for being superhumans.

Key Features

Become the legend: Harness the renowned athletic talents of the Tarahumara as you engage in fast-paced platforming and hand-to-hand combat.
Explore Sierra Tarahumara: Traverse a 3D world inspired by the legendary, real-life landscapes of northern Mexico, rendered in a vibrant, low-poly visual style.
Based on real mythology: Draw upon the powers of demigods and battle fearsome creatures pulled from the rich lore of the Tarahumara people.
Live the culture: From narration in their indigenous language, to music unique to the region, experience an authentic representation of Tarahumara culture.
Mix up your gameplay: Leverage the Tarahumara's physical prowess, demigod transformations, puzzle-solving and the crafting of magic potions as you save humanity from the corruption plaguing it.
Watch the new animated launch trailer below.