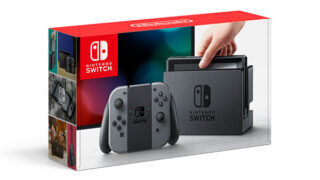 Switch sold more units than in December than any other video game system in the United States, according to video game sales tracker NPD Group, Nintendo announced. A total of 1.5 million Switch systems were sold during the five-week period of December. Since its launch on March 3, 2016, more than 4.8 million Switch units were sold, making it the fastest-selling home console in United States history.
3DS hardware sold more than 750,000 units in the United States in December, which is a 27 percent increase over the same period in 2016. Total sales of 3DS hardware in the United States have now exceeded 21 million.
Various Switch titles were high on the chart of most sold in December, including Super Mario Odyssey at number three, Mario Kart 8 Deluxe at number four, The Legend of Zelda: Breath of the Wild at number nine, and Splatoon 2 at number 16. Pokemon Ultra Sun and Pokemon Ultra Moon for 3DS also finished at numbers 13 and 14, respectively.