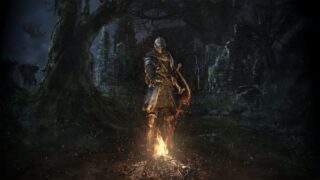 Bandai Namco has announced Dark Souls Remastered for PlayStation 4, Xbox One, Switch, and PC. It will launch in Japan on May 24, followed by the Americas and Europe on May 25.
Here is the fact sheet, via Bandai Namco:
Specs

Platforms: PlayStation 4, Xbox One, PC / Steam, Nintendo Switch
Genre: Action RPG
Release Date: May 25, 2018
Publisher: Bandai Namco
Developer: FromSoftware
Players: 1 Player (Single-Player), 1 to 6 Players (Multiplayer)
Rating: RP
Localization: Voiceover (EN), Subtitles (EN, SP, FR, BR)
Resolution and Frame Rate

About

Then, there was fire. Re-experience the critically acclaimed, genre-defining game that started it all. Beautifully remastered, return to Lordran in stunning high-definition detail running at 60fps. Dark Souls Remastered includes the main game plus the Artorias of the Abyss DLC.

Key Features

Deep and Dark Universe – Delve into an epic dark fantasy universe stricken by decline and the Curse. Explore its intricate world design – full of hidden passages, dungeons and secrets – and uncover its deeply rooted lore.
Each End is a New Beginning – Each playthrough surprises you with new challenges and unexpected facets of the game. Don't bet on completing the game only once.
Gameplay Richness and Possibilities – Hundreds of unique combinations of weaponry, armor, magic and crafting options to create your own playstyle and gaming experience.
Sense of Learning, Mastering, and Accomplishment – From your first steps to mastery, build your character while refining your playing skills. Learn to strategize freely and experience the rewarding taste of overcoming daunting foes.
The Way of the Multiplayer (Up to 6 Players with Dedicated Servers*) Whatever your motivations are to play online – collaboration or confrontation, support or betrayal – you'll find your true home among the nine covenants. Which allegiance will you choose? *All 4 platforms will have dedicated servers. *All 4 platforms will have dedicated servers.
In Japan, FromSoftware also announced a Dark Souls Trilogy Box for Playstation 4, which includes Dark Souls Remastered, Dark Souls II: Scholar of the First Sin, and Dark Souls III: The Fire Fades Edition, as well as "Bonfire" and "Advanced Knight" bookends, a memorial art set including 10 special artworks and an exclusive frame, the original soundtracks for each title (two discs each) housed in an original disc case, three Item Encyclopedias, and a special display case. It will cost 49,800 yen and launch on March 24.
Watch the announcement trailer below. View the key artwork and box art at the gallery.