Story of Seasons: Trio of Towns DLC 'New Neighbors Pack' now available
Adds MC Stephanie and dog-suited Woofio to marriage candidates.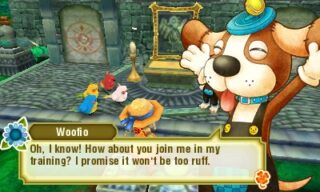 XSEED Games has released the "New Neighbors Pack" downloadable content for Story of Seasons: Trio of Towns in North America. It is available on the Nintendo eShop for $7.99. A new custom 3DS theme is also available for $1.99.
Here's an overview of the add-on, via XSEED Games:
Today's downloadable content introduces the popular MC Stephanie and dapper dog-suited Woofio as new marriage candidates for players to pursue, should their hearts so desire. For those looking to cultivate their relationship with an existing partner, each of the 11 marriage candidates has received roughly 50 new lines of dialogue, and players can now raise a child with their favorite foxy guardian, Inari. These new romance options, along with new friendship events including a visit from the player's family and a tea party, additional winter outfits, and more await Story of Seasons: Trio of Towns fans looking to extend their harvest seasons.
A free update, separate from the downloadable content, that adadresses minor software and text bugs, and adds four new outfits to the game (including those worn by protagonists Lest and Frey from Rune Factory 4), has also been released.
Finally, to celebrate the downloadable content's release, Story of Seasons: Trio of Towns itself will be available for 30 percent-off on the Nintendo eShop for the next week.
Watch the launch trailer below. View a new set of screenshots at the gallery.