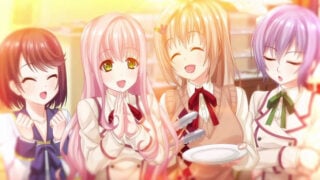 Song of Memories, which first launched for PlayStation 4 in Japan on April 27, will launch for PC via Steam in Japan on December 20 for 4,000 yen, publisher Pure Wish announced. It will feature Japanese, Traditional Chinese, and Simplified Chinese language support.
The PC version will also include the four additional scenarios included with the limited edition of the PlayStation 4 version, and was otherwise sold as downloadable content. That includes the "Sports Culture Festival," "His Longest Day," "The Adagio Tea House is Booming," and "Utanami Girls Network" scenarios.
The Switch version of Song of Memories will launch as a digital-only title in Japan around February 2018. The Switch version will include the same content as the PC version. A price has yet to be announced.
Back in July, Pure Wish announced plans to release the PlayStation 4 version of Song of Memories in North America and Europe this fall with English and French language support. Pure Wish did not provide an update on that in today's announcement. It is also worth noting that the Switch version of was originally planned for release in 2017 in Japan with Japanese, English, and French language support, and the PC version was originally planned for 2018.
Thanks, Famitsu.