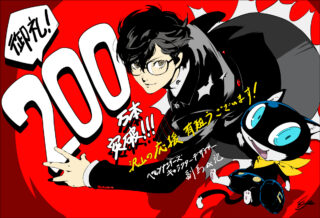 Total shipments for Persona 5 have topped more than two million units worldwide, Atlus announced.
Atlus notes that Persona 5 has earned critical acclaim since its initial launch, receiving recognition and awards from media outlets and fans. Most recently, Persona 5 has been nominated in four categories for The Game Awards 2017, which will be held on December 7, including "Game of the Year," "Best Art Direction," "Best Score / Music," and "Best Role-Playing Game."
Other awards include:
Japan Game Awards 2015 – Future Division Award
PlayStation Awards 2016 – Gold Prize / Users' Choice Prize Winner
VFX-Japan Awards 2017 – Game Video Division Excellence Award
IGN Japan Games of the Year 2016 – No. 1 Title
Dengeki Online Awards 2016 – No. 1 Best Console Title
Dengeki PlayStation Awards 2016 – No. 1 Best Title of 2016
Famitsu Awards 2016 – Excellence Award
CEDEC Awards 2016 – Game Design Division Excellence Award
Famitsu Overall Games Poll – No. 1 Title in the All Genres Division / No. 1 Title in the RPGs Division
Japan Game Awards 2016 – Excellence Award
PlayStation Awards 2017 – Users' Choice Prize
"This has been an incredible year for our company, one that represents our ambitions for Japanese games in the west," said Naoto Hiraoka, president & CEO of Atlus U.S.A. "We are in the middle of experiencing tremendous growth, both in the west and abroad, and the sales of Persona 5 represent a new level of expectation for fans of the genre. Once seen as niche, Persona 5 is one of the most important titles this year, proving interest in this category is expanding. We look forward to delivering more incredible games to our fans next year."
Persona 5 first launched for PlayStation 4 and PlayStation 3 in Japan in September 2016, followed by the Americas and Europe in April 2017.