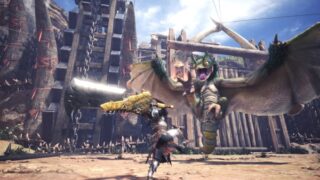 Several outlets have gone live with new gameplay videos and screenshots of Monster Hunter: World from Paris Games Week 2017 this week. We've compiled everything here.
Monster Hunter: World is due out worldwide for PlayStation 4 and Xbox One on January 26, 2018. A PC version will be released at a later date. In Japan, Monster Hunter: World will only be available for PlayStation 4. A PlayStation 4-only beta will run from December 9 to 12.
Watch the footage below. View the screenshots at the gallery.
4Gamer
Kulu-Ya-Ku and Pukei-Pukei
Jyuratodus and Tobi-Kadachi
Famitsu
Large-Scale Monster Hunt
Systems
Game Informer
New Gameplay Today
New Footage of Cooking
Gamer.com.tw
Pukei-Pukei
Barroth, Jyuratodus, and Rathian
Tobi-Kadachi
GameSpot
IGN
17 Minutes of Gameplay in 4K
Five Minutes of Gameplay in 4K
Every Armor Set So Far
Every Monster So Far
Preview
Tracking a Pukei-Pukei