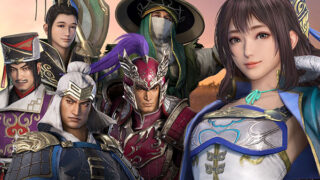 Koei Tecmo has updated the official website for Dynasty Warriors 9 with information and screenshots of new playable officer Xin Xianying, returning officers Xu Huang, Taishi Ci, Liu Shan, Pang Tong, and Chen Gong, and Hiding Places.
Get the details below.
■ Characters

◆ Jin

Xin Xianying (voiced by Shino Shimoji)

The daughter of Xin Pi of Wei, older sister to Xin Chang, and aunt to Yang Hu, her clever and observant nature saved her family from threats numerous times.

◆ Wei

Xu Huang (voiced by Keiichiro Yamamoto)

Praised by Cao Cao as "a match to Sun Tzu," Xu Huang's wisdom and courage also earned him a position as one of the Five Generals of Wei. As a fervent disciple of the way of the warrior, he showed great respect to any friend or foe who proved to be skillful and virtuous.

◆ Wu

Taishi Ci (voiced by Hirohiko Kakegawa)

With the belief that the way of the warrior was the true path to fulfilling his duty, he became known for always wielding his blade for what he believed to be right with a steadfast devotion. This belief was on full display when he saved Kong Rong, the prefect of Beihai, to repay the aid his mother had received from Kong Rong. After initially serving Liu Yong, Taishi Ci was forced to submit to Sun Ce wherein he eventually joined Wu after Liu Yong's defeat against Wu.

◆ Shu

Liu Shan (voiced by Taiki Matsuno)

Much was expected of Liu Shan as the son of Liu Bei, whose compassion and charisma drew together numerous heroes. However, many mistakenly thought of him as a slow and foolish son due to how he acted only after calmly considering all factors of any situation.

Pang Tong (voiced by Tagahiro Kawachi)

Nicknamed the "Fledgling Phoenix," Pang Tong was a brilliant military tactician who studied under the same master as Zhuge Liang. Although he typically showed a whimsical attitude, he was not one to mince words and often spoke the truth stemming from his firm understanding of the entire situation.

◆ Other

Chen Gong (voiced by Hiromu Miyazaki)

Despite his typical humorous attitude, Chen Gong was willing to make any sacrifice for his ambitions. After realizing that he would be unfulfilled serving Cao Cao, he pledged his loyalty to Lu Bu as a strategist instead.

■ System

◆ Open World

Hiding Places

—On the field there are empty houses which the player officer can purchase and use as a 'Hiding Place.' Players can own Hiding Places in various areas.

—An excellent property in a good location, within walking distance to the major city Luoyang.

—A popular property located in the vicinity of China's most scenic valleys of Jiuzhaigou and Huanglong.

—A peculiar property where you can overlook the mountain base from the top of Mount Hua, one of the Five Great Mountains of China.

—After purchasing a Hiding Place, invitations can be sent to officers you have a relationship with.

—An invited officer visits. They may arrive dressed in informal clothes.
Dynasty Warriors 9 is due out for PlayStation 4 on February 8 in Japan, and for PlayStation 4, Xbox One, and PC in North America and Europe in early 2018.
View the screenshots at the gallery.