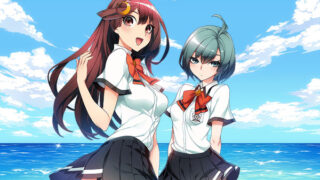 Arc System Works has released the teaser trailer, and first details and screenshots of its newly announced love adventure game World End Syndrome being developed in collaboration with Toybox Games for PlayStation 4, Switch, and PS Vita.
World End Syndrome is set in the seaside town of Mihate-chou, where the protagonist moves and begins a new life with new friends after an unexpected turn of events. The heroines of World End Syndrome are Maimi Kusunose, the heroine's cheerful cousin, and Miu Amana, a mature girl.
Character design is being handled by the BlazBlue series' main visual designer Yuuki Katou. The scenario is being handled by Tomio Kanazawa, who has produced various adventure games in the past.
Get the story and character details below.
■ Story

"…This world—I wish it would end."

After a certain incident, the protagonist—a boy who conceals a small darkness within him while living out his boring everyday life—ends up leaving the city and relying on an uncle he has never known, moving to the seaside town "Mihate-chou," which is situated in a cove.

He spends his days with his new friends at "Mihate High School" and has an "unforgettable summer experience," but what "incident" will occur in this tranquil seaside town? Depending on how you spend your days with the girls, the boy's "world" will drastically change…

■ Characters

Maimi Kusunose (voiced by Hisako Tojo)

The protagonist's cousin. Looking at her good qualities, she is cheerful and lively, but looking at her bad side, she is somewhat ill-mannered. After an unexpected turn of events, she and the protagonist live together under one roof. She is a member of the Tennis Club, and seems to be popular not only among the boys, but also among the girls.

Miu Amana (voiced by Shiori Izawa)

A mysterious girl with a shadowy quietness. While she is a bit isolated from those around her, she is the director of the "Mys. Research" club and can be of firm character. If you go to the cafe where she works part-time, you may even be able to see an unexpected side of her…
Arc System Works also announced the start of a regular web broadcast called "Mihate-chou Neighborhood Radio" featuring Maimi Kusunose voice actress Hisako Tojo and Miu Amana voice actress Shiroi Izawa starting today. The first edition is available today for viewing on YouTube and Niconico.
World End Syndrome will launch for PlayStation 4, Switch, and PS Vita in Japan in 2018.
Watch the teaser trailer below. View thee screenshots at the gallery. Visit the official website here.