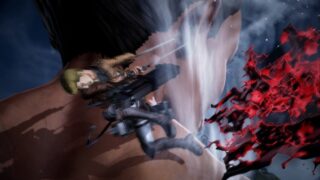 Attack on Titan 2 will launch for PlayStation 4, Xbox One, Switch, and PC via Steam in North America and Europe in March 2018, publisher Koei Tecmo announced.
The company also announced that Ymir and Christa Lenz will join the cast of previously announced playable characters. So far, only nine out of more than 30 playable characters have been confirmed.
Koei Tecmo will host an Attack on Titan 2 "World's First Live Gameplay" broadcast featuring voice actress Shiori Mikami today at 20:00 JST. You'll be able to watch it on YouTube, Niconico, and Fresh. Judging by the wording of today's press release, the release window announcement was not supposed to be released until after the broadcast, but a games industry press release website published it early.
With that in mind, here are the latest details on the game, via Koei Tecmo:
Delving deeper into the series' fascinating narrative, the game will have fans experiencing the gripping events of the anime's second season along with versatile action gameplay, all new challenges, and a wide selection of playable characters from Attack on Titan, including some new faces from the second season!

During the broadcast, Koei Tecmo introduced a selection of playable characters in Attack on Titan 2, while simultaneously unveiling the ability for players to create their own Custom Scout. They also confirmed that players will be able to play as; Eren Jaeger, Mikasa Ackerman, Armin Arlert, Levi, Miche Zacharias, Nanaba, Gelgar, Ymir, and Christa Lenz.

Attack on Titan 2 will feature enhanced Titan movements and attacks, requiring more precise maneuvers from players. Additionally, it introduces the Monocular; allowing scouts better analyzation based on pinpointing Titan positions from afar and attack strategy utilizing their Omni-Directional Mobility Gear.

Outside of their excursions, Scouts can also deepen their relationships with fellow comrades by training and preparing for battle with the new and improved Town Life gameplay. Strengthening relationships is an important element of Attack on Titan 2, providing a greater insight into the series' cast in a way that has yet to be experienced.
In Japan, Attack on Titan 2 will not be released for Xbox One, but it will be released for PS Vita. (Update 4:00 a.m.: The latest issue of Dengeki PlayStation confirms Attack on Titan 2 will also launch in Japan in March.)
View a new set of screenshots at the gallery.