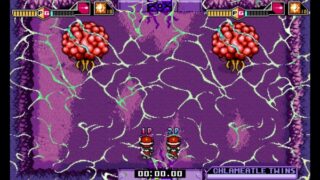 The Blaster Master Zero version 1.4 update will launch on October 5 and add a new "Boss Blaster Mode" among other features, developer Inti Creates announced.
The update will include the following:
Boss Blaster Mode has been added – Finish the main game to unlock this mode, where you battle every boss (and mid-boss) in succession. Be sure to try it with your EX Characters, too!
Co-Op Boss Blaster Mode has been added (Switch version only) – Unlocked along with Boss Blaster Mode, this mode lets you take on the bosses together with another player. Pass a Joy-Con to a friend and choose from your favorite EX Characters! Mix and match different charactesr together and find your blasting dream team!
Available number of save slots tripled to 21 (Switch version only)
EX Characters can now use the "Call Sophia" ability
In related news, Inti Creates announced that total worldwide downloads for Blaster Master Zero have topped 110,000. A new wallpaper illustrated by Yuji Natsume is available in 1920×1080 and 1600×1200 resolutions as a thank-you.
Blaster Master Zero is available now for Switch and 3DS.
Watch the version 1.4 introduction trailer below. View a set of screenshots at the gallery.