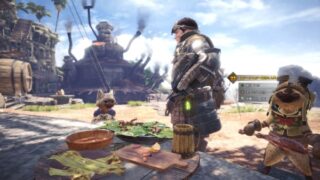 Capcom shared new information and screenshots on Monster Hunter: World's crafting, eating, and Palico systems, as well as the Bird Wyvern monster Pukei-Pukei Tokyo Game Show 2017.
Get the details below.
■ Smithy

With materials and money, you can craft and upgrade equipment.

Equipment System Overview

The actions of each weapon a hunter uses for hunting differ. You can create weapons with various characteristics, such as a heavy-hitting Great Sword, a Sword and Shield that can swiftly land multiple attacks, or a massive, but strong-shooting Heavy Bowgun.

Weapons Tree

When producing or upgrading weapons, which can be done using materials and money, you can choose from the weapons tree. Additionally, some weapons can rollback their upgrade to be upgraded again on another branch of the weapons tree. (If you rollback, all of the materials you used for that upgrade will be returned.)

Armor

Since armor production is displayed by body part for each series of armor, it is easy to make a selection. Armor can be upgraded using the "Armor Spheres" received as rewards for quests, etc.

—Armor Series Display

You can see the parts (head, torso, arms, back, and legs) for each armor series at a glance, and then make a selection.

—Trying on Armor

You can try on the armor you're interested in.

Palico Equipment

Palico equipment can also be easily crafted. Creation is possible with the minimum materials and investigation points (points acquired through exploration and quest investigation). Create various equipment to equip to your Palico.

—Palico Equipment

You can see the every part (weapon, head, and torso) of a Palico's equipment at a glance. You can easily try things on and select something to craft.

Wishlist

By registering the equipment you want to craft or upgrade to your Wishlist, you can check the necessary materials from the menu at any time. Also, you will receive notifications via system messages when you gather materials according to what you registered.

Equipment Skills

By simply equipping armor that possess equipment skills, you can upgrade your hunter's abilities and acquire special abilities. (Some armor do not have skills.) Additionally, by equipping armor with the same equipment skill, the skill's level will increase and its effect will be even stronger. (The maximum level varies per skill.)

Series Skills

Some armor possess series skills, and equipping a set amount of that series' armor will trigger powerful skills. In the armor crafting screen and equipment box, you can search and sort by specifying the skill.

Charms

Charms are equipment that can possess skills. They have no efficiency as armor. By upgrading charms with materials at the smithy, it is possible to increase the effect of the skills it possesses. In Monster Hunter: World, just like other equipment, charms can be crafted and upgraded using materials and money. (The abilities of crafted and upgraded charms are decided in advance.)

Armor Compatibility

In Monster Hunter: World, the same armor can be equipped regardless of the weapon type (swordsman / gunner). Equipping a close-range weapon (swordsman) triggers a "physical damage reduction bonus," but equipping a long-range weapon (gunner) triggers an "attribute damage reduction bonus."

Even during exploration and quests, you can change your equipment and sort through items in the tent at camp.

■ Canteen

A facility where players can restore their energy. Various power-up effects can be acquired by eating. The Canteen can even be used outside of the base—at camp in the field. It is beneficial in that you can use the Canteen at camp during quests when you have used up all your strength and your meal effect has died out.

Ingredients and Platters

Depending on the combination of ingredients, the meal effects and the food skills that trigger will change. The variety of ingredients will increase as you clear quests, etc. And while you can choose the ingredients used on your own, there are also "platters" available that choose the ingredients according to the effect.

Stove Cooking

By using the stove, the receptionist can convert items into ingredients. Depending on the items you give her, you may receive a strange item…

For cooking that takes as long as one quest to complete, for example if you request raw meat to be stove-cooked, the ration will be ready after the quest ends.

*Investigation points are a required fee.

■ Palico

By taking a Palico along to hunt, they will provide various means of support, from attacking monsters to using a variety of tools.

Felyne Palico

The hunter's hunting partner. Excelling in all types of support, including attack and recovery, these are small and reliable companions. They board the ship with the hunter, who is a member of the research group, and head for the New World.

Companions

Since Felyne Palicoes can speak the languages of some monsters, they can negotiate for a monster's help in hunting. If their negotiation is successful, the monster will act as a companion for a short period of time.

—A Palico riding the small monster Jagras… taking on the Great Jagras!? You can receive various support by using a Palico and a companion, which are only available when playing single-player, and hunting and investigation during exploration and quests will hasten.

Tetoru

New bipedal creatures similar to Felynes. They seem to have knowledge that only monsters living in high-density environments would have.

By using a Felyne Palico as an intermediary, you can attempt to communicate with the Tetoru. It might help you if you spot it on the field.

■ A New Monster Has Been Discovered in the Ancient Forest

Pukei-Pukei

A Bird Wyvern monster that has venom inside of its body. It eats vegetation such as scatternuts and stores them in its mouth and tail, and can fire a powerful poison breath by mixing them with venom. Its nickname is the "Poison Bewitching Bird."
Monster Hunter: World is due out worldwide for PlayStation 4 and Xbox One on January 26. In Japan, it will only be released for PlayStation 4. A PC version is due out at a later date.
View the screenshots at the gallery.