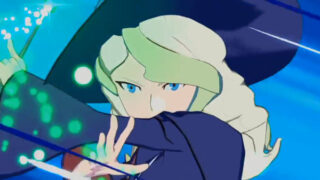 Bandai Namco will release a downloadable demo for Little Witch Academia: Chamber of Time in Japan in November, the company announced during a Tokyo Game Show 2017 live stream.
The same stream featured the debut of new gameplay footage, including a first look at playable character Diana Cavendish, one of seven announced playable characters in the game. Akko, Lotte, Sucy, Amanda, Constanze, and Jasminka are also playable.
Little Witch Academia: Chamber of Time is due out for PlayStation 4 in Japan on November 30, and for PlayStation 4 and PC in North America and Europe in early 2018.
Watch the new footage below (from 6:34:06 to 6:46:40).
https://www.youtube.com/watch?v=DTCBBTLi5Qc