Gundam Versus first major update trailer
Ranked Matches, Ultimate Battles, and Trial Battles.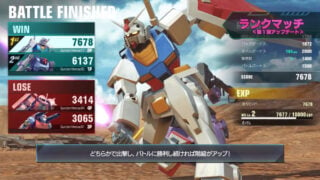 Bandai Namco has released a new trailer for Gundam Versus outlining its first major update in Japan.
The update will add the following features:
Ranked Matches

Ranked Match is a battle mode in which you will test your skills against opponents whose ranks are close to your own. You will be able to participate in Ranked Matches by meeting certain conditions. There are two types of Ranked Matches, which are two-on-two only battles. There's "Team Hold," in which one friend and two CPUs with designated Costs participate. And then there's "Team Shuffle," in which four players are automatically matched.

Ultimate Battles

Ultimate Battle is a survival mode in which you will aim to defeat waves of enemies that appear one after the other. A new "Boss Survival" course will appear in this mode, in which all of the boss enemies such as MA-05 Bigro will appear. The "Extra Battle" that occurs in this course will let up to six "Boss Hunters" take on a boss. You can enjoy Boss Survival on your own or with two players.

Additionally, the Extra Battles that occur in "Easy," "Normal," and "Hard" difficulties will also be updated. Special Extra Battles will occur that allow the additional Mobile Suits planned for release as paid downloadable content to be played for free. These special Extra Battles that allow you to play as new Mobile Suits will only occur for a limited time.

Trial Battles

Trial Battle is a single-player mode in which you will aim to clear CPU battle missions. Certain missions in this mode will be updated with new content. In the new missions, the additional Mobile Suits planned for release as paid downloadable content will appear as enemies.
Gundam Versus is available now for PlayStation 4 in Japan, and will launch in the Americas and Europe on September 29.
Watch the trailer below.
https://www.youtube.com/watch?v=U5wcLNWx0ms