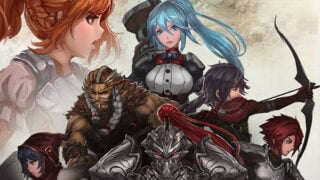 Fallen Legion: Sins of an Empire for PlayStation 4 and Fallen Legion: Flames of Rebellion for PS Vita, which were previously planned for release on July 25 in the Americas, have been moved up to July 18, developer YummyYummyTummy announced. In Europe, both games will still launch on July 25.
Players who pre-order Fallen Legion: Sins of an Empire for PlayStation 4 will receive Fallen Legion: Flames of Rebellion for PS Vita free of charge. Each game will cost $19.99 separately, and PlayStation Plus subscribers who pre-order Fallen Legion will receive a 20 percent discount. These pre-order bonuses are live in the Americas today, and will soon also be live in Europe.
Fallen Legion will be playable at EVO 2017 from July 14 to 16 at the MIX Indie Showcase with an exclusive level made for the event and not available in the main game. The development team will also host a "How to Succeed as an Indie Game Developer" panel at San Diego Comic-Con 2017 on July 22 at 6:00 p.m., which will feature Andy Ngyuen from PocketWatch Games, Ian Flood from Yacht Club Games, Persona 5 voice actress Xanthe Huynh, Darrel Delfin, and Metal Gear Solid composer Rika Muranaka.
Here's an overview of each game, via YummyYummyTummy:
About Fallen Legion: Sins of an Empire

Embark on a personal journey with Princess Cecille and an enigmatic talking grimoire to restore glory to your crumbling home in Fallen Legion: Sins of an Empire for PlayStation 4. Explore gorgeous, hand-drawn lands inhabited by rival soldiers and ferocious dragons. With a team of living weapons at your side, fight enemy hordes and master devastating combo attacks to defeat challenging bosses with the game's deep combat system.

About Fallen Legion: Flames of Rebellion

In Fallen Legion: Flames of Rebellion for PlayStation Vita you control Princess Cecille's rival, Legatus Laendur, who is leading an army to overthrow the royal family. These stories told on both platforms complement each other to build the rich universe of Fenumia. Rule your Empire between brutal battles and make gut-wrenching decisions that change the fate of your country and your people. Will you blackmail a prince to gain a strength buff or tax a starving village to revive one of your characters? Fallen Legion pushes players to make difficult decisions and witness the consequences of their choices.

Key Features

A Legion At Your Command – Control up to four characters simultaneously, master devastating combos and counter enemy attacks with a well-timed block in Fallen Legion's unique battle system.
Every Choice Changes Your Empire – Players must make split-second decisions to rule their empire. These choices impact the game's story.
Two Experiences, Two Stories – Written by Zero Escape: Virtue's Last Reward editor Ben Bateman, Fallen Legion shows the scars of war from two perspectives in two different games.
Talented Voice Acting Cast – Fallen Legion stars Xanthe Huynh (Persona 5) as Cecille and Darrel Delfin as Laendur. Additional voiceover work by Kira Buckland, Jalen Cassell, Alan Lee, and Dorah Fine.
Magnificent 2D Artwork – From the fangs on our menacing manticore to each sun-kissed brick in Fenumia's castle, all of the artwork has been hand-drawn to create a stunning world.
Watch a new trailer for Fallen Legion: Flames of Rebellion below.