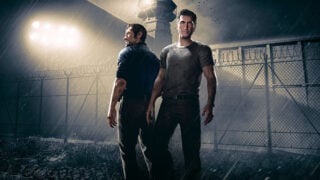 Electronic Arts and Hazelight Studios, which is mostly formed of the team behind Brothers: A Tale of Two Sons, have announced A Way Out, a co-op-only game for PlayStation 4, Xbox One, and PC due out in early 2018.
Here's an overview of the game, via EA:
A Way Out is a new EA Originals game coming to players from the creative minds behind the critically-acclaimed indie title, Brothers: A Tale of Two Sons. Coming early 2018, A Way Out is a co-op only game uniquely tailored for two players to work together no matter the situation. Through a compelling narrative, Leo and Vincent will embark on an emotional adventure, where they will live some memorable action moments that they will face together including car chases, stealth passages, melee fights, shootouts and many more.

The story of A Way Out begins in prison with two separate inmates, Leo and Vincent, who don't know each other. While their individual stories progress, players will have to build a relationship based on trust as they break both men out of prison into the world beyond. This co-op only experience is meant to be played together with a friend on a couch or online.
In a press release, Hazelight writer and director Josef Fares said, "This game is going to bring a co-op experience unlike anything you have ever seen before. The idea for A Way Out came when me and a friend tried to find a story driven co-op game that wasn't a drop-in/drop-out experience. We simply could not find a game like that. We're also bringing an innovative look into how to tell the story of both these characters. Players will be immersed in the game with the way we change the display from a full screen experience seamlessly to different cinematic split-screen formats. By focusing on the two characters in different ways, it opens up a huge variety of gameplay, as we really wanted to avoid repetitions so they will get to know the characters through very different situations."
Watch the reveal trailers below. Visit the official website here.
Reveal Trailer
Gameplay Trailer