Genkai Tokki: Castle Panzers introduces characters and systems
First concrete information on Compile Heart's latest Genkai Tokki game.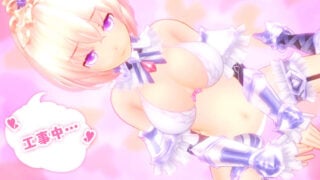 The latest issue of Dengeki PlayStation has new information on Genkai Tokki: Castle Panzers for PlayStation 4.
Get the details below.
Characters

Alex Ride – The protagonist. His crotch gets stuck to a device in the ruins he escaped to in order to shelter the Imperial princess. In responding to a mysterious voice heard within the ruins, he ends up signing a contract to collect underwear in exchange for being able to make use of a powerful castle.
Iris Laingalestia – The heroine. An Imperial princess with a kind personality. She feels responsible for Alex, who landed himself in a difficult situation by saving her.

Monster Girls

Sharon – Iris' number one advocate. She is a servant and body guard who would gladly sacrifice her life if it's for Iris. She is a helpful and reliable older sister-type.
Leaf – A woman who lives in a Monster Girl settlement. She has an elusive personality in that you can't be sure what she's thinking.

System

The battle system is based on those of simulation RPGs, but there are no squares that indicate movement range.
You'll be able to develop the girls' breasts and butts. The series' traditional girl-touching elements will also return.
You can also develop the castle used by the protagonist. The castle is equipped with a huge gun. You'll be able to somehow develop it to become significantly stronger.
Since the ruins device is docked to the protagonist's crotch, he cannot leave the ruins.
The protagonist can freely move around inside the ruins. The ruins itself also moves, so it is not a hindrance on his journey. It does make daily life very inconvenient, though.
Thanks, Hachima Kikou.