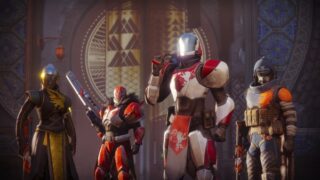 Activision and Bungie lifted the lid on Destiny 2 during a gameplay premiere event live streamed online from the Jet Center in Hawthorne, California.
The sequel to the 2014-launched Destiny, Destiny 2 is a first-person action game that tasks players with defending humanity from annihilation. It offers a fresh start to all players with no previous knowledge or background of the first game necessary. It promises a "heroic, cinematic journey," which you can play either solo or with friends, and offers a new "Guided Games" feature that allows solo players to find and play with other players to earn new in-game rewards like weapons and armor.
Here's the full overview, via Activision:
■ Product Description

Destiny 2 is a first-person action game and the evolution of its award winning, internationally acclaimed predecessor, Destiny. With a compelling, immersive story and fresh beginning awaiting all new, returning, casual, and competitive players, Destiny 2 will deliver an experience for new and existing players to discover.

■ Cinematic Story with Relatable Characters

Humanity has fallen to an overwhelming invasion force, led by Lord Ghaul, the imposing commander of the brutal Red Legion. He has stripped Guardians of their power, and forced the survivors to flee their home. Players will venture out into our solar system to discover an arsenal of weapons and devastating new combat abilities. To defeat the Red Legion and confront Ghaul, they must reunite humanity's scattered heroes, stand together, and fight back to reclaim our home.

■ Four New Stunning Worlds to Explore with New Features

Destinations of Destiny 2

European Dead Zone – The largest destination yet featuring a lush forest, abandoned town, a cave system below the surface, and a Red Legion military base to explore and contest.
Titan – One of Saturn's Moons where Commander Zavala is regrouping at the hands of Ghaul. There is no land on Titan. Instead, players explore a series of Golden Age platforms surrounded by a rolling ocean.
Nessus – a strange and unstable planetoid that has been fully consumed by the Vex where players will find Cayde-6 is caught up in his own adventures in a stunning landscape of sheer walls, lush canyons, and creepy Vex caverns.

All New Director

Your guide throughout Destiny 2 in your search for Adventures, Lost Sectors, new Public Events, and more. Players can pick a landing zone, explore, and seamlessly jump into other activities in game.

Adventures

Shorter missions with self-contained stories for players to learn more about the Destiny 2 universe and the characters that live there.

Lost Sectors

Scattered, enemy dungeon layers throughout the world you can discover with unique boss enemies guarding treasure to earn.

Public Events

Unique, optional, dynamic combat activities that players can join on the fly as they roam around the world solo or with up to nine other players.

■ Action, Adventure, and Gameplay Activities for All Types of Players: New, Returning, Casual, and Competitive

Play Solo or with Friends

Story Campaign – Narrative of Destiny 2's cinematic story where players can also explore in Adventures, Patrols, Lost Sectors, Quests, and Public Events.

Join Friends to Complete Cooperative Experiences

Strikes – Three-player missions in Destiny 2.
The Raid – Six-player missions with incredible challenges and rewards.

Face-off Against Opponents in Competitive Experiences

The Crucible: Competitive 4v4 PvP Gameplay with New Modes and Maps

Countdown is a new competitive mode where players spawn on either Offense or Defense, and when the round ends you swap sides and roles. The goal is to plant a bomb at the enemy base, and then defend it until it explodes. Each round is worth one point. First team to six wins. To revive a teammate, you must use a revive token. Power weapon ammo is only granted to the one player who pulls it. Working as a team is the key to victory.
Midtown is an abandoned part of the City. When the Red Legion invaded, they completely ignored this sector of the City in their takeover. The Legion deemed Midtown was of no tactical importance. Lord Shaxx agrees, which is why it was chosen as a Crucible arena in the first place.

Clan Creation Feature

New integrated system that allows friends to bring their community and unique culture to the forefront of Destiny. Clans have been fully integrated into the game and will provide official banners, invitations, and their own rewards and experience systems for all members.

Guided Games

A new feature that brings solo players and clan communities together to play Destiny 2's most challenging activities including Raids, Trials and Nightfall Strikes.

■ Destiny 2 is Coming to PC through Battle.net

The PC version will feature:

4k Resolution Support (3820×2160)
Uncapped framerate
Full mouse and keyboard support with custom key mapping
Text chat
Adjustable Field of View
Detailed PC settings screen
21:9 monitor support

■ PlayStation Exclusive Content

At launch, PlayStation gamers will get access to additional timed exclusive* content. More will
be revealed throughout the summer.

*Timed exclusive content until at least Fall 2018. More details to come this summer.

■ Destiny 2 Beta

A Destiny 2 beta is planned for this summer.

■ On Display at the Destiny 2 Gameplay Premiere

The following content was available to play at the Gameplay Premiere:

Destiny 2's beginning story mission 'Homecoming' where your Guardian responds to an emergency in the Last Safe City.
A Strike called 'The Inverted Spire' taking place on the planet, Nessus, where the enemy Cabal have awoken something deep beneath the surface.
New Competitive Mode:

Countdown: Plant a bomb at the enemy base, and defend it until it explodes.

New Competitive Map:

Midtown: The Last Safe City, Earth

The PC version of Destiny 2 was running on:

GPU: NVIDIA GeForce GTX 1080 Ti (Courtesy of Nvidia)
CPU: Intel Core i7-7700K 4.2Ghz (Courtesy of Intel)
16GB Ram/500GB SSD/Windows 10
Monitor: Predator XB1 27" 4K IPS with NVidia G-Sync [XB271HK] (Courtesy of Acer)
Keyboard: Razer Ornata Chroma (Courtesy of Razer)
Mouse: Razer Deathadder Elite (Courtesy of Razer)
Headset: Razer Man O'War 7.1 (Courtesy of Razer)

■ Product Breakdown

Available on PlayStation 4, Xbox One, and PC

PlayStation Plus or Xbox Live Gold subscription respectively, required for significant features.
Destiny 2 is due out for PlayStation 4, Xbox One, and PC worldwide on September 8. Read up on the game's various editions here.
Watch all the footage below. View the first screenshots at the gallery.
Cinematic Trailer
Gameplay Trailer
Gameplay: "Homecoming" Mission
Gameplay: "Inverted Spire" Strike
Developer Diary: Story and Gameplay
Developer Diary: Worlds
https://www.youtube.com/watch?v=1Xl3RCh1UC0