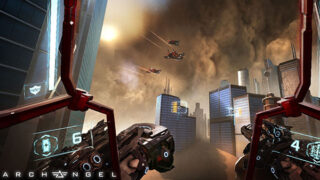 Skydance Interactive will release its virtual reality shooter Archangel on PlayStation VR in July followed by additional virtual reality platforms two weeks later, the company announced.
Archangel is set in a world ravaged by natural disasters, where government and freedom no longer exist in a corporatized, tyrannical United States. You play as an Archangel selected by a resistance called the U.S. Free Forces and pilot a six-story high war machine built to destroy as you lead your squadron into battle against HUMNX, a private conglomerate that governs the little that is left of a ravaged America.
Here's more about the game via Skydance Interactive president Peter Akemann on the PlayStation Blog:
Grab the controls and watch as your own two massive mech hands surge to life! Fire at will on your enemies with an incredible array of high-powered weapons, or punch a plane from the sky with one hand while machine-gunning a hovercopter with the other — all without breaking a sweat.

Throughout the game you'll protect — and be protected by — AI-controlled teammates who pilot a number of different vehicles, each with their own capabilities. When the odds turn against you, use your shield generators to block incoming attacks and protect your teammates. If your shields have failed, your teammates carry nano-bot units that can repair damage to your hull. When weapons and shields won't do the trick, you can get personal and use your hands to crush your foes. Being a massive mechanized engine of destruction has some pretty noticeable advantages in combat!

Utilize all this firepower and support to battle your way through progressively difficult waves of enemies across many different environments, and earn XP to level up your mech along the way. Play the lead role in the next chapter of the great story of the resistance, with storylines both epic and personal woven throughout.


Our goal with Archangel was to create an action-packed shooter with explosive gameplay, high-quality graphics, engaging storytelling and dynamic characters, delivering a complete package for VR gamers.

We're so excited to bring Archangel to you and hope you enjoy the game, but do not take this mission lightly — you are the best and final hope for the United States Free Forces, the tip of the spear in the fight against the tyrannical HUMNX. You are more than a warrior and more than a protector. You are the people's deliverance. You are the Archangel!