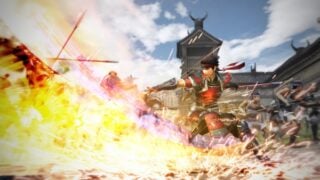 Koei Tecmo has shared new information, video, and screenshots of its upcoming Samurai Warriors: Spirit of Sanada, introducing the game's new combat elements.
Get the details below.
Samurai Warriors: Spirit of Sanada features the time-tested "one versus thousands" gameplay style of the Warriors series with a plenitude of new additions. For example, combat will now occur over a longer period of time across multiple battlefields with the inclusion of Multi-Stage Battles. Through these intense conflicts, players will be able to experience historical events like never before and witness situations develop first hand. On Secondary Battlefields, players will be able to engage in battles where the Sanada family did not play a major role, and earn extra experience and items for participating while witnessing key historical events from another perspective.

Outside of combat, players can enjoy a variety of activities in the Castle Town, such as gathering information, interacting with townspeople and completing Feats – tests of combat that reward players with coins. When six coins are accumulated, these Sanada Six Coins can be used on the battlefield to trigger Stratagems – special strategies which will alter the flow of battle. The effect of a Stratagem will differ each time it is used, allowing for unique opportunities to change the tide of battle, and these strategies can be further enhanced by utilizing the newly implemented passage of time features to one's advantage. During the day, Officers will appear on the battlefield more frequently and players will be able to see the entire map and enemy locations, whereas at night enemy placements will not be visible and Ninjas will appear to stealthily attack their opponents.

Samurai Warriors: Spirit of Sanada weaves the tale of the Sanada Clan through its fascinating characters as it follows the footsteps of fan-favorite Samurai Warriors figure Yukimura Sanada. As players journey from boyhood and rise to the title of "The Crimson Demon of War," they gain a deeper perspective on Yukimura's motives, struggles, and upbringing. Although his honesty and devotion to the Sanada Clan initially cause him to question the schemes of his father, Masayuki, Yukimura's training and travels teach him his father's true intentions, eventually allowing him to discover his own reasons for fighting as he masters the ways of the spear. When his father and brother join opposing factions, Yukimura must make a difficult decision – and determine his own destiny.
Samurai Warriors: Spirit of Sanada is due out physically and digitally for PlayStation 4, and for PC via Steam on May 23 in North America and May 26 in Europe.
Watch the character gameplay trailer below. View the screenshots at the gallery.