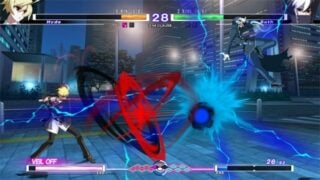 Arc System Works has released the first details and screenshots of the recently announced PlayStation 4, PlayStation 3, and PS Vita version of French-Bread-developed fighting game Under Night In-Birth Exe:Late[st].
The console version includes a new playable character named Enkidu, an additional 10-hour story, Training Mode and Misison Mode, balance adjustments, and more.
Get the information below.
■ New Character: Enkidu

Enkidu (voiced by Shunsuke Takeuchi)

A master of ancient martial arts with a muscular body, Enkidu is playable in Under Night In-Birth Exe:Late[st] for the first time.

Enkidu is a "play feel" character with simple controls and almost no practice of difficult consecutive techniques necessary. Additionally, as a system unique to Enkidu, he has an effect called "Havoc," which improves the capabilities of his techniques when attacking the enemy off guard.

Enkidu's Battle Style

—Special Move: "Sankaishou"

Enkidu drives at the enemy while unleashing an attack from his palms. With additional input, it can become a three-stage attack.

—Special Move: "Tenritsu Nokamae

Parries the enemy's attack and deals damage.

—Infinite Worth: "Rasen Soushouda"

Builds up power in both arms and releases it all at once near the enemy to deal big damage.

—Infinite Worth EXS: "Karuma Noman: Meigoku Hakenshou"

The power engraved onto Enkidu's arms awakens, and he fires a strong shock that destroys his manifestation.

Enkidu's Scenario

Enikidu is a member of Amnesia, which is led by Hilda. However, he aims for Gordeau with his equally powerful "greed" and has a tendency to do anything he can to fight against tough fighters. Though his power of "manifestation" is weak, he confronts various enemies in that body.

■ 10-Hour Story Added

10 hours of story has been added as "Chronicle Mode." Through this additional story, the characters' origins and meeting stories will finally come to light.

■ Tutorial Mode and Mission Mode Added

For the first time in an Under Night series console entry, a Tutorial Mode and Mission Mode have been added.

■ PlayStation 4 and PlayStation 3 Cross-Play

PlayStation 4 and PlayStation 3 users can play online together via cross-play. Compete your skills against rivals from across the country.

*PS Vita users can only play with other PS Vita users.

■ Other Additional Elements

Game balance adjustments, including the performances of existing characters, have been implemented. Battles have been further polished and the breadth of strategy has expanded. Various new information will be shared in future reports.

■ Early Purchase Bonus: Original Soundtrack

Users who purchase Under Night In-Birth Exe:Late[st] early will get the original soundtrack, "Force of Fragment," as an included bonus. It features 11 total tracks, including the opening theme, arcade opening theme, and new character theme.
Under Night In-Birth Exe:Late[st] will launch physically and digitally for PlayStation 4, and digitally for PlayStation 3 and PS Vita, on July 20 in Japan.
View the screenshots at the gallery.