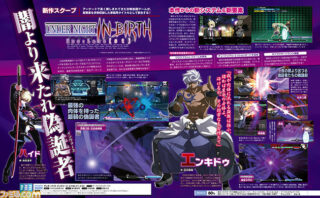 Arcade fighting game Under Night In-Birth Exe:Late[st] is coming to PlayStation 4, PlayStation 3, and PS Vita, the latest issue of Weekly Famitsu reveals.
The console version will feature new elements, such as a new playable character named Enkidu.
Development is currently 80 percent complete.
Thanks, Famitsu.
Update 7:20 a.m.: Under Night In-Birth Exe:Late[st] will launch on July 20 in Japan. It will cost 6,800 yen at retail and 5,370 yen via download on PlayStation 4. The PlayStation 3 and PS Vita versions will be digital-only and cost 5,370 yen.
The game will feature 19 characters. Enkidu is a master of the ancient martial arts voiced by Shunsuke Takeuchi. Cross-platform online play is supported between PlayStation 4 and PlayStation 3. Other changes include the addition of Tutorial and Mission modes, and character balance adjustments.
Thanks, Hachima Kikou.