20 Unreal Engine 4 games in development for Switch in Japan
According to Epic Games Japan's Takayuki Kawasaki.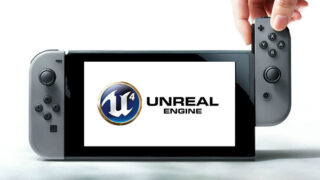 There are about 20 titles that use Unreal Engine 4 in development for Switch, Epic Games Japan representative Takayuki Kawasaki told Automaton in a recent interview.
"Unfortunately, there were not any Unreal Engine titles at launch, but in late March, Snake Pass, which was one of the titles playable at GDC, launched in America and Europe, and at the Nintendo Switch Presentation, there were titles such as Shin Megami Tensei," Kawasaki said. "In Japan, there are about 20 titles being developed that use Unreal Engine, so I think that they'll be announced gradually from here on."
When asked if that number corresponds to Switch titles, Kawasaki said, "These are titles that use Unreal Engine, for Switch, and are being made in Japan. There may even be more. And now we're gradually moving forward with Switch support for the free version [of Unreal Engine 4]. That way, as long as you have a Switch development license, you will be able to develop for Switch even with the free version."
At the moment, there are only a few announced Japanese titles for Switch that use Unreal Engine 4, including Bloodstained: Ritual of the Night, Shin Megami Tensei, and presumably Dragon Quest XI (the Switch version has yet to be shown, so we don't know if it's based on the PlayStation 4's Unreal Engine 4 version or the 3DS's 3D/2D version).