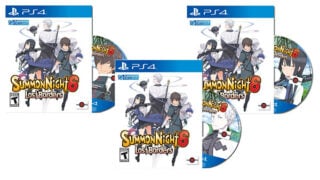 Summon Night 6: Lost Borders will launch physically and digitally for PlayStation 4 and PS Vita in North America on May 23, publisher Gaijinworks confirmed to Gematsu. The game is aiming for a simultaneous digital-only release in South America and Europe, but notes that if it doesn't appear on the PlayStation Store on May 23, then it will appear "very soon after."
The PlayStation 4 physical version will ship in Raj, Amu, and Ist Editions. Each edition has a different character artwork on the disc and on the back of the box. The PS Vita physical version will not ship in multiple editions.
Here's an overview of the game:
About

Summon Night 6: Lost Borders weaves an emotional tale of friendship and discovery that begins in the sparsely populated "cocoon world" of Fillujah, where the three main characters (Raj, Amu and Ist) live in virtual isolation. Each has a single companion, a flying sidekick with an amazing special power, and they are all surprised when dozens of strangers begin to suddenly appear-literally falling out of the clear, blue sky.

Lost Borders can be played and enjoyed without any knowledge of the previous games in the series, but fans will recognize that the mysterious strangers are actually returning characters from all of the mainline Summon Night games. Originally released in Japan as a celebration of the award-winning series' 15th anniversary, Summon Night 6: Lost Borders offers gorgeous widescreen graphics presented in high definition, a first for the series.

The fully 3-D battle system allows Chain Attacks that happen automatically when an enemy is surrounded by two or more allies; in these situations, each ally can hit the enemy without risk of counterattack. In addition to the Summons that are a hallmark of the series, two allies can team up for a breathtaking "Summon Burst" attack that invokes a devastating magical strike from one of many giant fantastical creatures. Combat is only one part of the Summon Night 6 experience.

The series is well known for its "night conversations"-one-on-one encounters where various characters confide in one another, leading to a web of elaborate, emotional storytelling with many different branching paths. Lost Borders also includes several charming mini-games: One has you fishing for different types of aquatic creatures, while another involves cooking power-up meals using the bounty you've caught with your fishing pole.

Key Features

A gorgeous strategy role-playing game
Cross-save support between PlayStation 4 and PS Vita versions
Three difficulty levels, from Casual to Veteran
A huge cast of 50-plus characters
Scenario and Free Battle modes
View a new set of screenshots at the gallery.
Update 03/08/17 at 10:50 a.m.: Gaijinworks has announced a few additional details.
A fourth packaging variant is being produced exclusively for the Wonderful Edition box set that was only available by pre-orders placed prior to December 2016.
The initial print run of Summon Night 6 physical copies will include a special voucher that can be mailed in (along with a $3.95 shipping / handling fee) to obtian a free copie of the game's original soundtrack on CD, which is normally $29.99. The CD includes all of the music from the game and comes with a case and full-color disc art, both of which are differen tfrom the soundtrack CD included with the Wonderful Edition box set.
English-language studio recording sessions for the game are complete. Its over 18 hours of dialogue total 20,000 individual lines of dialogue and over 60,000 lines of text. Here is the list of English voice actors:
Micah Duclos (newcomer) as Raj
Kathy Emma (a veteran of several Working Designs games who also sings the English version of the game's theme song) as Amu
John Truitt (best known as the voice of Ghaleon in the LUNAR series) as Ist
Patrick Seitz (Fire Emblem, Inside Out, One Piece) as Melgitos
Bryce Papenbrook (Attack on Titan, Sword Art Online) as Kanon
Mela Lee (Love Live!, Fate/stay night) as Kunon
Xander Mobus (Super Smash Bros., Persona 5) as Ishlar
Rhonda Gibson (LUNAR: The Silver Star, Exile) as Amer
Kira Buckland (Skullgirls, Phoenix Wright Ace Attorney: Spirit of Justice) as Milreaf
Grant George (Naruto: Shippûden, Bleach) as Rexx
Melissa Gulden (Popful Mail, LUNAR: Silver Star Story Complete) as Aty
Erica Mendez (Kill la Kill, Hunter x Hunter) as Toris
Kyle McCarley (Mob Psycho 100, Durarara!!x2) as Kir / Seilong
Zach Aguilar (One Punch Man, Mobile Suit Gundam: Iron-Blooded Orphans) as Ray
Chad Letts (LUNAR 2: Eternal Blue Complete, Vanguard Bandits) as Banossa
Kaiji Tang (Fire Emblem: Awakening, Pokémon Generations) as Atosh
Lucien Dodge (Dust: An Elysian Tail, Sailor Moon Crystal) as Ioth
Erik Scott Kimerer (Accel World, The Seven Deadly Sins) as Folth
Christine Marie Cabanos (Puella Magi Madoka Magica, Squid Girl) as Natsumi
Blake Dorsey (Elemental Gearbolt, Cosmic Fantasy 2) as Luvaid
Griffin Burns (Bear in Underwear, Mobile Suit Gundam: Iron-Blooded Orphans) as Touya
Brianna Knickerbocker (Fire Emblem: Fates, Durarara!!x2) as Enysha
Jackie Powers (LUNAR: The Silver Star, Growlanser II/III) as Fair
Xanthe Huynh (K-On!, Yuki Yuna Is a Hero) as Aya
Tammy Jones (Cosmic Fantasy 2, Vay) as Lisher
Craig Padilla (Growlanser Generations) as Bulrell
Ned Schuft (LUNAR 2, Growlanser Generations) as Nesty
John Haas (LUNAR: Silver Star Story Complete) as Kyle
Forrest Spade (Growlanser Generations) as Magna
Breanna Lensing as Arca
Stacia Jacobs as Azlier
Taylor Grace as Claret
Austin Lee Matthews as Erst
Ben Wogan as Gian
Bobby Thong as Hayato
Courtney Blanc as Luchell
Vesper Lynd as Radylia
Mickenzie Fisher as Ruelly
Blake Fisher as Scarrel
Sophia Komarek as Sonolar