Fire Emblem Echoes introduces two new characters, unit movement rewind system
The latest on the upcoming 3DS re-imagining.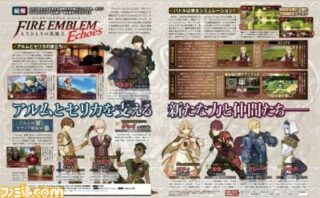 The latest issue of Weekly Famitsu has new information on Fire Emblem Echoes: Shadows of Valentia.
Get the information below.
System

Difficulty Settings – When you start the game, you can select between "Normal" and "Hard" difficulty settings. There are also two types of battle rules, including "Classic" where allies who've been defeated can't be revived, and "Casual," where they can be revived once the map is cleared.
Mila's Gear – If you use it during battle, you can rewind the movements of your units one at a time. There is a limit to the amount of times you can use it, though, so don't abuse it.

Battle

Terrain Effects – There is no weapon affinity in this game, but terrain effects are important. In forests, for example, the enemy's hit rate drops 40 percent.
Magic – Magic disregards terrain effects, but it's not good to use excessively since you lose HP when you attack with magic.

Characters

Berkut (voiced by Tatsuhisa Suzuki) – The Rigel Emperor's nephew and a noble who stresses the importance of his social status. He provokes Desaix's betrayal and leads the Zophia Kingdom coup d'etat.
Effie (voiced by Atsumi Tanezaki) – Alm's childhood friend. She joins the liberation army with the intent of staying close to Alm. Her starting class is Villager.
Silque (not a new character, voiced by Yuka Inokuchi) – She is saved by Alm after being captured by thieves, and entrusts him with "Mila's Gear." Her starting class is Cleric.
Fire Emblem Echoes: Shadows of Valentia is due out for 3DS on April 20 in Japan and May 19 in North America and Europe.
Thanks, Famitsu and Hachima Kikou.