Square Enix newly established Studio Istolia president Hideo Baba talks new project in Weekly Famitsu
Baba wants to express a setting of "kindness" and "warmth."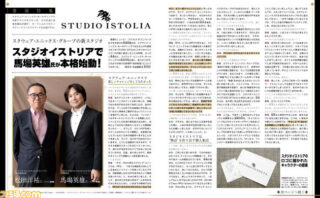 Following Square Enix's announcement of Project Prelude Rune from its newly established Studio Istolia, the latest issue of Weekly Famitsu has the first interview with studio president and project producer Hideo Baba.
Here are the tidbits:
I was entrusted with a big IP at my previous position, but while doing business development outside of video games, I thought it was about time to pass the baton to my juniors, and at a turning point, I decided to leave the company.
When I thought about how many more games I'll be able to make in the future, I thought that I wanted to try again among many major players in the RPG world. That's why I knocked at the gates of Square Enix last October.
Square Enix president Yosuke Matsuda: "I would like him to make a new IP while discovering new talent."
Studio Istolia is a company of craftsmen that will create stories, which is the origin of its name.
The company mascot was designed by Toshiyuki Itahana, who did the character design for the Chocobo series. It's still without a name, but I would like it if this character appears in future games.
I would like to express "kindness" and "warmth" as the setting for the new title we're making now. It won't have a bloodthirsty atmosphere, I want to make a game where you can think, "I want to enter that warm world as soon as possible."
I would like to express the world based on the anime and comics I've come to know since I was little.
In returning to fantasy origins, I'm currently planning to make a straightforward, middle-fantasy RPG. The world will have various races, such as Norse mythology, dwarfs, and elves.
I don't want to change the "Baba-ness," such as depicting the growth of the characters and the strength of the message.
(When will it be released?) At this point…
(What platforms will it be released for?) I don't know what it will become in the end, but we have a strong desire to stick with stationary consoles. However, I also want to consider platforms with business chances, including smartphones.
Of course, I also want to take on expansion overseas.
Thanks, Hachima Kikou and Famitsu.