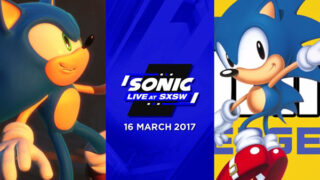 Sega will host an official Sonic the Hedgehog panel at SXSW 2017 on March 16 at 5:00 p.m. CT featuring new reveals for both Project Sonic 2017 and Sonic Mania.
Here's the full overview of the event:
Official Sonic SXSW Panel

When: March 16, 2017 from 5:00 p.m. to 6:00 p.m. CT
Featuring: Aaron Webber (Sega), Mike Pollock (Sega), Takashi Iizuka (Sega), and Roger Craig Smith (voice actor)

Dive into the world of Sonic the Hedgehog in this exclusive behind-the-scenes look at both Sonic Mania and the upcoming Sonic 2017!
With presenters from Sega and Sonic Team's Takashi Iizuka, this panel will answer questions about both games, showcase a new reveal for each title, and will discuss Sonic's resurgence in the world of gaming since the reveal of both games.

Of course, with Sonic involved, who knows what other surprises might be in store?
You'll be able to watch the panel live on Twitch.
SXSW 2017 runs from March 10 to 19.