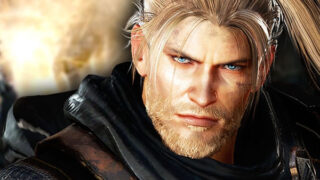 The final Musou Stars character introduction trailer features the newly confirmed playable character William from Nioh.
Koei Tecmo also updated the game's official website with first screenshots and a description of the character:
William Adams from Nioh (voiced by Ben Peel)

An Englishman with blond hair and blue eyes from Ireland. He travels together with Saorise, the guardian spirit he met when he was young. Originally a pirate, he speaks with a free-spirited and rough language, but he actually has a sharp mind and a strong sense of justice. His innate characteristics are easily admired by spirits and guardian spirits.
If you missed it, the eighth set of videos introduced Hajime Arima from Harukanaru Toki no Naka de, Laegrinna from Deception, Lu Bu from Dynasty Warriors, and Opooona from Opoona; the seventh set of videos introduced Naotora Ii from Samurai Warriors, Plachta from Atelier Sophie: The Alchemist of the Mysterious Book, and Zhou Cang from Dynasty Warriors 9; the sixth set of videos introduced Ayane from Ninja Gaiden, Arnice and Christophorus from Nights of Azure, and Tokitsugu from Toukiden 2; fifth set of videos introduced Darius from Harukanaru Toki no Naka de, Honoka from Dead or Alive, Marie Rose from Dead or Alive, and original character Shiki; fourth set of videos introduced Rio from Super Black Jack, Oda Nobunyaga from Samurai Cats, Mitsunari Ishida from Samurai Warriors, and original character Setsuna; the third set of videos introduced Horo from the Toukiden series, Millenia from the Deception series, and Ryu Hayabusa from the Ninja Gaiden series; the second set of videos introduced Zhao Yun from Dynasty Warriors, Yukimura Sanda from Samurai Warriors, and original character Tamaki; and the first set of videos introduced Sophie, Wang Yuanji, Ouka, and Kasumi.
Musou Stars is due out for PlayStation 4 and PS Vita in Japan on March 30.
Watch the footage below. View the screenshots at the gallery.