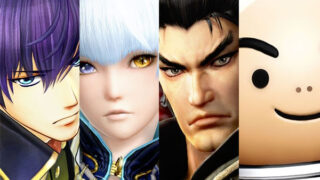 The eighth set of Musou Stars character introduction trailers features Hajime Arima from Harukanaru Toki no Naka de, Laegrinna from Deception, Lu Bu from Dynasty Warriors, and Opooona from Opoona.
If you missed it, the seventh set of videos introduced Naotora Ii from Samurai Warriors, Plachta from Atelier Sophie: The Alchemist of the Mysterious Book, and Zhou Cang from Dynasty Warriors 9; the sixth set of videos introduced Ayane from Ninja Gaiden, Arnice and Christophorus from Nights of Azure, and Tokitsugu from Toukiden 2; fifth set of videos introduced Darius from Harukanaru Toki no Naka de, Honoka from Dead or Alive, Marie Rose from Dead or Alive, and original character Shiki; fourth set of videos introduced Rio from Super Black Jack, Oda Nobunyaga from Samurai Cats, Mitsunari Ishida from Samurai Warriors, and original character Setsuna; the third set of videos introduced Horo from the Toukiden series, Millenia from the Deception series, and Ryu Hayabusa from the Ninja Gaiden series; the second set of videos introduced Zhao Yun from Dynasty Warriors, Yukimura Sanda from Samurai Warriors, and original character Tamaki; and the first set of videos introduced Sophie, Wang Yuanji, Ouka, and Kasumi.
Musou Stars is due out for PlayStation 4 and PS Vita in Japan on March 30.
Watch the trailers below.
Hajime Arima (Harukanaru Toki no Naka de)
Laegrinna (Deception)
Lu Bu (Dynasty Warriors)
Opoona (Opoona)