EA Play 2017 to be held from June 10 to 12
Electronic Arts' personal E3 returns.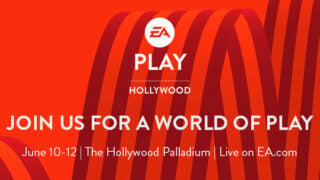 Electronic Arts has announced that it will hold EA Play 2017 from June 10 to 12 at the Hollywood Palladium. The event will be live streamed on EA.com.
EA Play 2017 will "connect fans around the world to EA's biggest new games through live broadcasts, community content, competitions and more." Attendees will be able to experience hands-on gameplay, live entertainment, and more. As for users following the event online, Electronic Arts will host live streams, deeper looks at their upcoming games, and content from "some of the best creators in the community."
More information about EA Play 2017, including attendance and ticket availability information, will be shared in the coming weeks and months.
Electronic Arts held its first EA Play event last year as its own replacement for E3 2016, which it did not attend. E3 2017 will be held from June 13 to 15, so that will likely be the case again this year. Find everything the company showcased at EA Play 2016 here.