Uncharted: The Lost Legacy announced for PS4
Starring Chloe Frazer and Nadine Ross.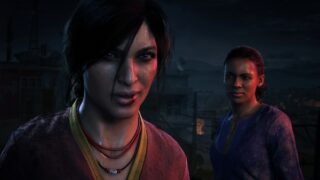 Sony Interactive Entertainment and Naughty Dog announced Uncharted: The Lost Legacy for PlayStation 4 during the PlayStation Experience 2016 keynote. It's due out as a standalone title both physically and digitally in 2017.
Uncharted: The Lost Legacy began develoment as story downloadable content for Uncharted 4: A Thief's End, but along the way, Naughty Dog realized it was building something much greater, and it is now a standalone story in the Uncharted universe. It will feature all the hallmarks of the series, from cinematic storytelling set within exotic destinations, to dynamic combat and intricate puzzles.
Here's an overview of the game, via Sony:
From the critically acclaimed developer, Naughty Dog, comes the first standalone adventure in Uncharted franchise history led by fan-favorite character, Chloe Frazer.

In order to recover a fabled ancient Indian artifact and keep it out of the hands of a ruthless war profiteer, Chloe Frazer must enlist the aid of renowned mercenary Nadine Ross (from Uncharted 4: A Thief's End). Together, they'll venture deep into the mountains of India in search of the legendary artifact. Along the way, they'll learn to work together to unearth the mystery of the artifact, fight their way through fierce opposition, and prevent the region from falling into chaos.
Watch the debut gameplay below. View the first images at the gallery.