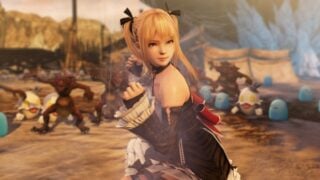 Koei Tecmo has updated the Musou Stars official Japanese website with details and screenshots of newly confirmed characters Opoona, Marie Rose and Honoka from Dead or Alive, Rio from Super Black Jack, and Zhou Cang from Dynasty Warriors.
Get the details below.
Opoona (voiced by ???)

A young boy born on Planet Titia, where heroes who protect the universe known as the "Cosmo Guard" live. As a descendant of the Cosmo Guards, he was treated as an apprentice since he is still a child, but during his first space flight on a trip with his parents, he crash lands on the Planet Landroll. Through his adventures there, he grew to become a hero.

Marie Rose (voiced by Mai Aizawa)

A girl with a devilish smile. She has the appearance of a servent, but her background is shrouded in mystery. Contrary to her small and cute outfit, she is a master of the military martial art of Systema, who trifles with the enemy with her fluid and tricky movements.

Honoka (voiced by Ai Nonaka)

A gentle girl who was raised by her loving grandmother. She loves watching fights, and when she gets excited, a mysterious power breaks out from within her. Her ultimate skill is the ability to immediately memorize any fighting move she sees, but keeps it a secret from those around her.

Rio (voiced by Mariko Inoue)

The star casino dealer at Hotel Howard Resort. She is called the "Goddess of Victory" based on her splendid skill and good luck. She is a bright and cheerful woman full of energy. She works hard every day with the goal of being a super top-class dealer like her mother Lisa.

Zhou Cang (voiced by ???)

A former subordinate of the Yellow Turbans and Zhang Bao. He reunited with Guan Yu in Gagyuzan after falling so low as to become a bandit and became his loyal follower. He is extraordinarily swift-footed, and his speed is said to be the same as that of a red hair that runs a thousand miles per day. He excels in swimming with his superhuman strength, and plays an active role as a commander.
Musou Stars is due out for PlayStation 4 and PS Vita in Japan on March 2.
View the screenshots at the gallery.