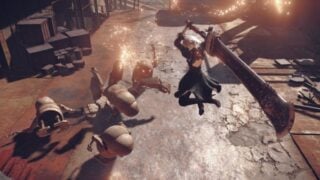 NieR: Automata will be optimized for PlayStation 4 Pro, producer Yosuke Saito told Game Rant.
"Yes, it will be optimized for the PS4 Pro," Saito said. "It will keep the 60 FPS [of the game running normally] while we are trying to optimize it to have 4K quality graphics as well."
Asked if the game would come to Xbox One, in addition to the already announced PlayStation 4 and PC, Saito said that while it's being considered, it will depend on how successful the initial launch of the game turns out.
Finally, Saito said that the game would last 25 to 30 hours long.
NieR: Automata will launch for PlayStation 4 in Japan on February 23, and for PlayStation 4 and PC in North America and Europe in early 2017.