The Last Guardian Japanese countdown web commercial series begins
"A Certain Company Employee."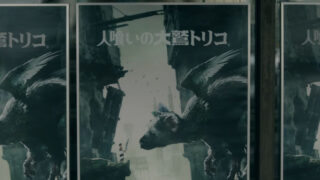 Sony Interactive Entertainment Japan Asia has released the first in a series of The Last Guardian web commercials counting down to the game's December 6 release date.
The commercials were produced with the goal of appeasing fans who have been waiting for the game to release. They are directed by Joji Matsuoka, who has a reputation for character portrayal, evidenced in his works such as Tokyo Tower: Mom, Me, and Sometimes Dad and Shinya Shokudo, in order to realistically depict the feelings of the fans.
The first commercial, "A Certain Company Employee," sees a company employee run into his co-worker, who came across a poster for The Last Guardian, while walking down the street. Because this employee has waited seven years for the game, he is in dramatic awe at its approaching release.
The next four commercials will feature various characters, ranging from foreigners to convenience store employees.
The Last Guardian will launch for PlayStation 4 on December 6 in the Americas and Japan, December 7 in Europe, and December 9 in the United Kingdom and Ireland.
Watch the first web commercial below.
https://www.youtube.com/watch?v=LcPkwziOCp8